A data importer so good,
you never think about it
Onboard customer data quickly and keep it fresh with Dromo, a self-service file importer and data editor.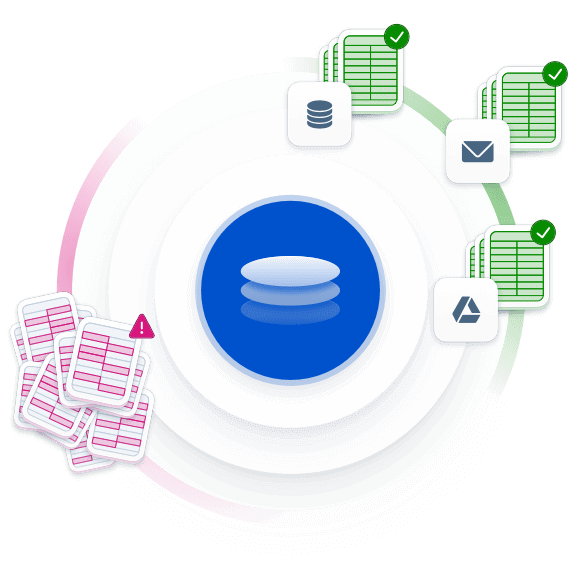 Used at great organizations worldwide in
Finance
Property Management
Construction
Hospitality
Athletics
Education
Healthcare
Manufacturing
Energy
Supply Chain
Operations
fix messy data files
Dromo does the dirty work
Never clean another spreadsheet by hand
Speed up the boring stuff

Powered by AI, Dromo provides deep semantic support for mapping columns and cleaning data, even across languages.

Get started

Delight your users

With an intuitive workbook UI and downloadable error report, Dromo isolates bad data and provides clear instructions for fixing it.

Get started

Import files from anywhere

Supporting 34 languages and counting, Dromo has the broadest language support in the industry.

Get started
We have now rolled out Dromo across our entire customer onboarding experience, and it has made our lives so much easier. Most importantly, our customers love the new experience!
Ryan Chan
E&Y Entrepreneur of the Year finalist
AUTOMATE YOUR WORKFLOW
Move fast with Dromo
Dromo can run in response to any event and integrates with your everyday tools.
Start fast

Dromo's no-code Schema Studio generates a custom file importer that's ready to go live or hand off to a developer.

Get started

Insert into any workflow

Dromo's Headless API lets you run Dromo programmatically outside of the browser.

Get started

Integrate with tools you love

Dromo integrates seamlessly with services across your existing stack, from Google Drive and Microsoft OneDrive to Slack and Hubspot, and hundreds of others.

Get started
Paid plans start at just $50/month
Sign up for the Free Plan or start a fully-featured 14-day trial.
Find your plan
Dromo helps you
fix files

from customers, collaborators, and other software.
Reduce onboarding errors by 98%

Save more than a year of engineering time

Migrate in less than an hour
Compare Dromo to other providers
Deploy Securely
Keep files private with Dromo.
Don't share your data files with unnecessary third parties, including us!
Keep files private. When embedded in your site and run in Private Mode, Dromo operates entirely in the web browser.
Get started
Skip the middleman. You can write files directly from the browser to your cloud storage without exposing them to an intermediary.
Get started
Stay in complete control. You can deploy Dromo via Kubernetes and host it in your cloud infrastructure.
Get started
A Roadmap to Delightful Data Onboarding
Benchmark your current approach to onboarding data files from customers and get up to date on best practices in UX design, privacy, automation and more.
Get the eBook
Easy ways to learn more about Dromo
Frequently Asked Questions
The Dromo importer walks a user through the process of validating, cleaning, and transforming a data file, guaranteeing that the final output meets all your quality standards and is in the form you expect.

To configure Dromo, you simply define what the final data file should look like, along with any validation rules or constraints. You do this by creating a "schema" for each import, either in code (Dromo Pro only) or using the no-code Schema Studio.

To use Dromo, you or an end user must:

Initiate an import. This happens in one of two ways:

A user opens the embedded Dromo importer and uploads a file (or manually enters their data)
You send a file to the Headless API (this feature is a premium add-on)

Match columns. After uploading a file, the user matches their column names to the names you require (where possible, the importer does this automatically on their behalf or uses AI to recommend matches).
Run bulk transformations. The user may perform bulk transformations on the data, with suggestions powered by AI.
Clean remaining errors. The user may review the final data in a familiar workbook interface, which highlights and annotates any errors. They can quickly isolate and diagnose problems and correct the data.

If a user prefers to fix errors offline, they may download the current state of the import as an Excel workbook, complete with error annotations, from the review screen. Whenever they re-upload that file, the importer will pick up where they left off.

Dromo outputs the final cleaned data as a JSON object. You can now move the file to the next stage of your data pipeline (e.g., upsert it into a database, attach it to an email, save it in cloud storage) with confidence.

Dromo also provides access to metadata about the import and has an option to view final data as a CSV file.

Dromo's pricing is flexible, accessible, and honest. We list starting prices on our

Pricing page,

and we do not have hidden fees or surprise upcharges (such as for monthly billing or white labeling). You can get started without talking to sales or making any upfront commitment.

We encourage new customers to experiment on the Free plan, then graduate to a usage-based plan that bills monthly (you can cancel anytime). Once you're confident in Dromo, we recommend an unlimited plan at a flat annual rate, so you don't have to manage variable costs as you scale or your usage fluctuates.

Yes, you may launch an import programmatically using the Headless API (this feature is a premium add-on). If there are any errors during the import process (for example, a column cannot be matched automatically or a data validation fails) you are provided a URL where you can direct your user to fix the issues. If there are no errors, the import succeeds automatically and the user does not need to be involved.

In many cases, no! Although we are SOC 2 certified and can securely process and store data, Dromo believes the very best way to protect your end user data is to never have access to it in the first place. To that end, we offer

numerous private configurations

that allow you to operate Dromo without the contents of your data files ever transiting our servers or networks.

You can also deploy Dromo yourself via Kubernetes and host it in your own cloud.

Yes, you can pass the final results of an import to services like Google Drive, Microsoft OneDrive, Dropbox, Slack, and hundreds of other out-of-the-box integrations via Zapier.

You can also write your own server-side integrations using webhooks and the Dromo API.

Yes, all Dromo plans are white label out of the box. You may customize the importer to match your brand and style guide by following

these instructions

.